Football food should be cheesy, delicious and fit for a crowd. But sometimes you want to mix in some healthy game day food that is delicious and budget friendly.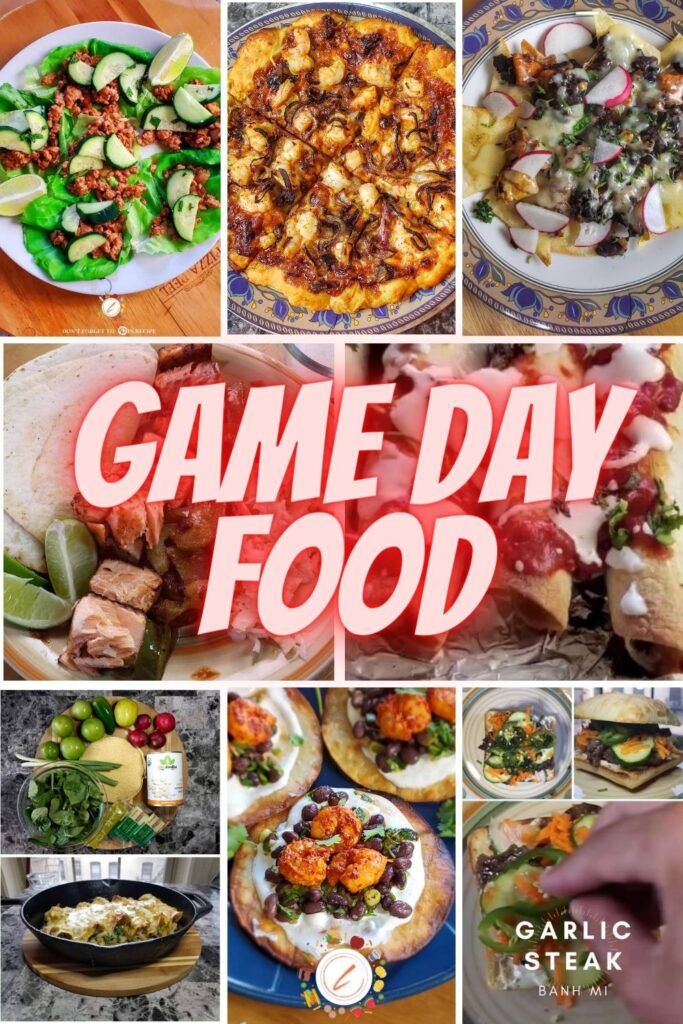 Here's is list of my favorite foods for game day. They are all easy to make and under 30 minutes if you work fast and great for a crowd.
Tostadas also known as toasted tortillas are typically deep fried. This Shrimp Tostadas recipe calls for a lot less oil which makes it a little healthier. But has just enough to get that same golden crispiness. We are going to top these bad boys with adobo-marinated shrimp and a refreshing bean salad.
Everyone loves a good lettuce wrap, and this Turkey Lettuce Wraps is tasty and healthy. Ground turkey is sautéed with onions, garlic, serrano chili, and just a tiny drizzle of tamari.
Black Bean Chicken Nachos: These aren't the nachos from your local watering-hole. Our version loaded with black bean and sweet potato chili making for a hearty, nacho you'll actually feel good about eating for dinner, top toasted flour tortillas with melted cheddar cheese, cilantro, and sliced radishes for a fresh, peppery-crunch.
Taquitos are a traditional Mexican dish consisting of rolled-up tortillas filled with meat, cheese, or veggies. They are then fried until crunchy. Here, we fill flour tortillas with pulled pork and then oven-fry them to get that satisfying crunch in each bite. The Taquitos are served with tomatoey-taco spiced dipping sauce, sour cream, and fresh cilantro.
Now this is going to be a tasty fun meal to make. Asian BBQ Pork tenderloin tacos with a little apple slaw and sriracha mayo. Now that sounds good, and the best part is that it's kid friendly, dairy free, one pot, healthy meal that's simple to make.
Garlic Steak Banh Mi sandwiches are a staple in Vietnamese street food culture. This sandwich is stacked with meat—typically pork—pickled veggies, and fresh herbs. I've decided to change it up a little and use steak.
These crispy spinach curry rolls are India's answer to burritos. A typically spicy Curry Rolls is rolled into roti, an Indian flatbread, and then fried until crisp. This version uses a heady combination of gingered, curried chickpeas and spinach as the filling acts as a stand in for paneer. An Indian cheese, and adds a bit of creamy, ooey gooey richness to the dish. On the side, there's a sweet apricot chutney for dipping.
Salsa Verde Veggie Enchiladas recipe: This Salsa Verde Veggie Enchiladas recipe is a perfect healthy meal for the family. The green enchilada sauce uses just three ingredients chopped fresh tomatillos, vegetable broth, and corn tortillas.
This recipe comes together in one skillet under 30 minutes, salmon fajitas are a summer weekend game-changer. Onions and green bell peppers are sautéed with Mexican chili spice. Slightly charred veggies and tender, the salmon is seasoned and pan-seared until just cooked through "yum." It's served with a cabbage slaw tossed in a sour cream and lime dressing.
What happens when you combine BBQ sauce, wild US gulf shrimp, and dough– you get an amazing transformation– BBQ Shrimp Pizza. We know it's a combo you may not normally consider, but, man, it is good and you will love it.
Please follow on Instagram and Pinterest