There is nothing more americana than pork chops. And there is nothing more american than your appetite craving comfort food and a regular-size cut of meat just won't do. For this recipe we sear a giant, bone-in pork chop. We finish it off with some creative and tasty sides. Cheesy, comforting polenta and roasted balsamic Brussels sprouts. Finished off with a shallot based gravy and you have an amazing family meal.
Why we love pork chops
Pork chops are one of most popular meats. They come from the loin section of the pig. From the loin, a cut is made to the pig's spine section perpendicularly and an individual meat piece is drawn out from it that contains a vertebra or a rib. Pork chops are considered to be a more tender section of the pig. They are also considered to be more flavorful as well as the priciest part of a pig.
---
---
Tips for the perfect pork chop
Tip number 1: There are many ways to season pork chops properly. There is the traditional salt and pepper always good in a pinch. But you can take it up a level and brine the chops before cooking. A nice quick brine takes only 30 minutes. The brine will season the meat nicely without it tasting too salty.
Tip number 2: If you have spent good money on a nice piece of meat, make sure you treat it well. Take the pork chops out of the refrigerator for about 15 minutes before you plan to start cooking. Bringing the meat up to room temperature helps it cook more evenly throughout.
Tip number 3: Do not skip the 'Rest' Stage: Its key to let your pork rest once you get it on the cutting board. Even after it has reached the recommended temperature leave it alone. I recommend it to let it sit for 10 minutes. Cutting into the meat too early will allow all the flavorful juices to escape onto the board instead of getting redistributed into the meat. By giving the chops this necessary time allows the fibers of the meat to relax and soak up the yummy juices, resulting in a tender, juicy pork chop.
---
Wine Pairing
Grenache: Pork is a tough wine to pair. Grenache isn't considered a full-bodied wine, while pork has less umami than beef. These two medium flavors go extremely well together.
Garnacha is one of the most widely planted red wine grape varieties in the world. It ripens late, so it needs hot, dry conditions such as those found in Spain. Grenache has red fruit characteristics that will boost the flavor of the pork.
---
Tips of cooking Pork:
When pan-frying, the best cuts to use are boneless. Boneless cuts will lay flat on the bottom of the pan and allow the meat to cook more evenly. When the bone is left in the chop or steak, the meat around it cooks slower. Frequently, when trying to thoroughly cook the meat around the bone, the outer edges will become over done.
Do not overcook pork or it will become dry and tough. The threat of trichinosis is eliminated when the pork is heated to 137°F but the USDA recommends cooking pork to 145°F to be safe. Cooking to 145°F will result in clear or slightly pink tinted juices and provides meat that is juicy and tender.
A roast with a bone in it will cook faster than a boneless roast because the bone will conduct heat faster than the meat.
Cut into the meat and check meat to see that it is white in color. When cooked to medium doneness there may be slight traces of pink in the middle.
---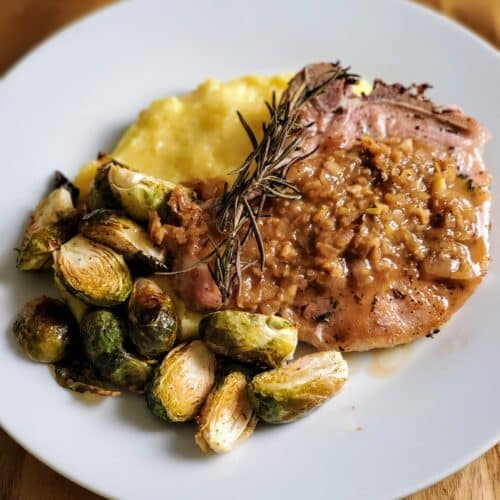 Rosemary Monster Pork Chop with Cheesy Polenta
There is nothing more americana than pork chops. And there is nothing more american than your appetite craving comfort food and a regular-size cut of meat just won't do. For this recipe we sear a giant, bone-in pork chop
Equipment
large skillet

meat mallet (or heavy skillet)

rimmed baking sheet

small saucepan
Ingredients
garlic

use 1 large clove

1

pkt turkey broth concentrate

1

lb

pkg bone-in pork chops

3

oz

quick-cook polenta

3

¾ oz pieces fontina

3

oz

shallot

use half

¼

oz

fresh rosemary

½

lb

Brussels sprouts

balsamic vinegar

or red wine vinegar

butter

kosher salt & pepper

olive oil
Instructions
Prep ingredients: Preheat oven to 450°F with rack in the upper third. Trim and discard stem ends from Brussels sprouts, then halve (or quarter, if large). Pick and finely chop 2 teaspoons rosemary leaves, discard stems. Peel and finely chop half of the shallot (save rest for own use). Peel and finely chop 1 teaspoon garlic. Cut all of the fontina into small pieces.

Roast Brussels sprouts: On a rimmed baking sheet, toss Brussels sprouts with 2 tablespoons each oil and vinegar, any remaining whole rosemary sprigs, and a generous pinch each of salt and pepper. Roast on upper oven rack until golden brown and tender, about 15 minutes.

Cook polenta: Meanwhile, in a small saucepan bring 2½ cups water and ¾ teaspoon salt to a boil. Gradually whisk in polenta and return to a boil. Cover and reduce heat to low, stirring occasionally, until grains are tender and polenta is thickened, 8–10 minutes. Remove from heat and stir in fontina. Cover to keep warm until ready to serve.

Cook pork: Pat pork dry. Place between 2 sheets of plastic wrap and pound meat to an even ½-inch thickness. Season all over with chopped rosemary, salt, and pepper. Heat 1 tablespoon oil in a large skillet over medium-high. Add pork and cook until well browned and the internal temperature reaches 145°F, 2–3 minutes per side. Transfer to a cutting board.

Make sauce: Add chopped shallots and garlic to skillet and cook over medium-high, stirring, until softened, 1–2 minutes. Add turkey broth concentrate and ½ cup water; simmer, scraping up browned bits on the bottom of the skillet, until sauce is thickened and reduced to ¼ cup, 5–6 minutes. Off the heat, swirl in 1 tablespoon butter and season to taste with salt and pepper.

Finish & serve: Serve polenta topped with pork chops and pan sauce spooned over top. Serve Brussels sprouts alongside.
Notes
ALLERGENS
Milk. May contain traces of other allergens. Packaged in a facility that packages gluten containing products.
Recipes you might like