There is nothing more American than pork chops. And there is nothing more American than your appetite craving comfort food and a regular-size cut of meat just won't do. But sometimes you might want something a little more exotic but not too crazy.
Lemon marinated grilled pork is a simple but tasteful dish that really doesn't require much skill. So it's perfect for any level from beginners to experts.
And a perfect combo with this dish is the Greek Salad. made with tomatoes, cucumbers, onion, feta cheese, and olives and dressed with salt, pepper, Greek oregano, and olive oil. And you have a great side dish for this lemon grilled pork.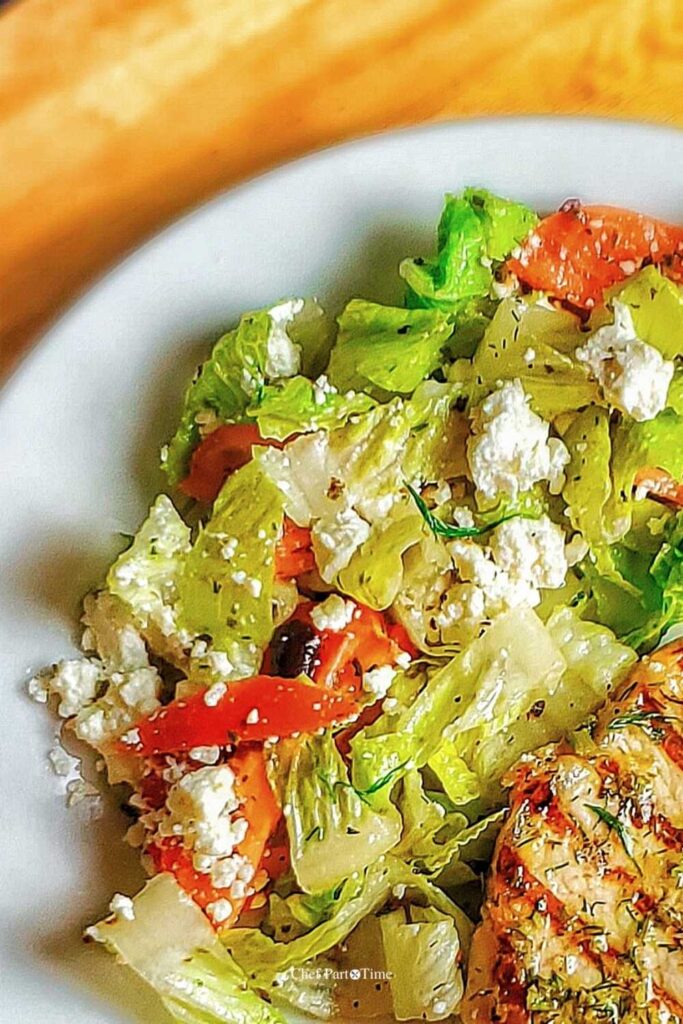 This dish combines a perfect harmony of flavors to create a vibrant and uber flavorful light dish. That will put a smile on your face. And for the most part is keto friendly.
Even in the winter time you might feel like something light.
Tips for the perfect grilled pork chop
Tip number 1: There are a couple of ways to season pork chops. You can use a little salt and pepper to season them, or you can take it up a level and brine the chops before cooking. A nice quick brine takes only 30 minutes. The brine will season the meat nicely without it tasting to salty.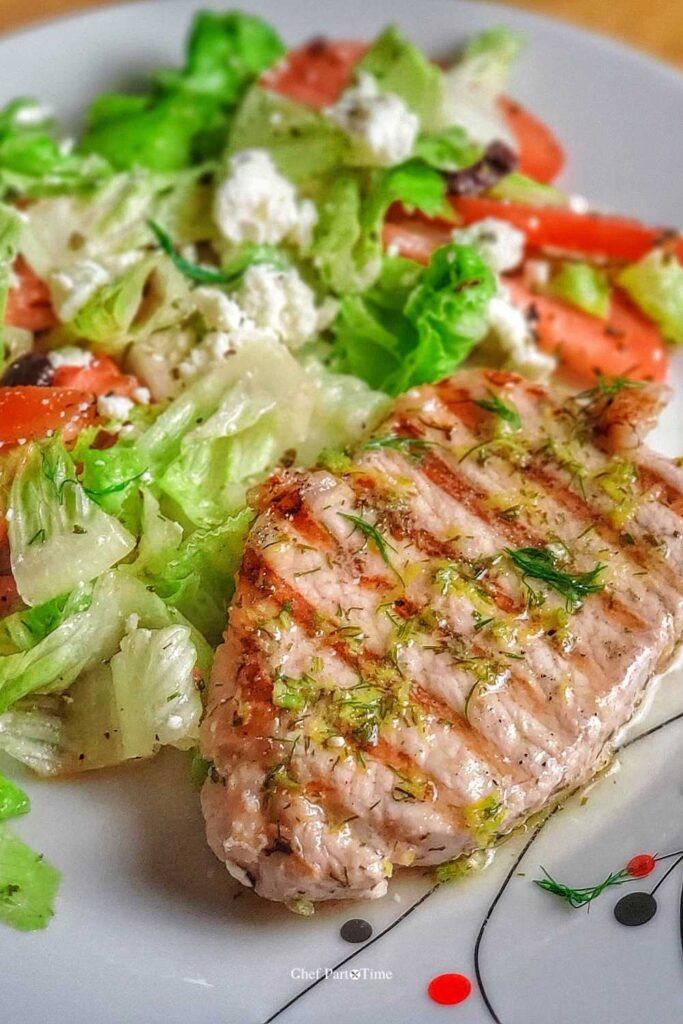 Tip number 2: If you have spent good money on a nice piece of meat, make sure you treat it well. Take the pork chops out of the refrigerator for about 15 minutes before you plan to start cooking. Bringing the meat up to room temperature helps it cook more evenly throughout.
mistakes you can make when cooking pork:
Do not trim the fat: A good pork chop will have a nice little layer of fat around the edges. This makes for a tastier piece of meat. Instead of cutting it off, use your tongs and stand the chop on its side in the pan while cooking and get that fat browned and crispy.
If you don't have a grill or grill pan, no sweat! Heat 1 tablespoon oil in a large skillet over medium-high, add pork and cook until browned and the internal temperature reaches.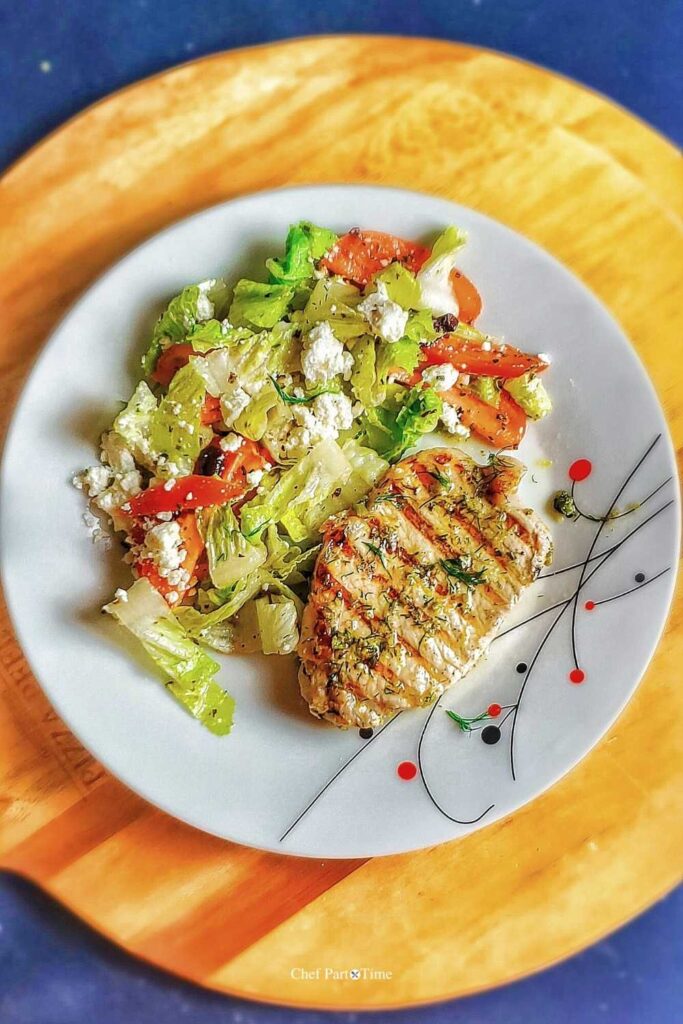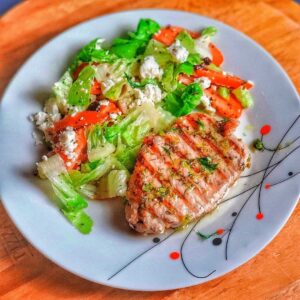 Lemon-Marinated Grilled Pork
There is nothing more American than pork chops. And there is nothing more American than your appetite craving comfort food and a regular-size cut of meat just won't do.
Ingredients
garlic

¼

oz

fresh dill

1

lemon

12

oz

pkg boneless pork chops

dried oregano

use 1 tsp

2

plum tomatoes

1

oz

Kalamata olives

1

romaine heart

2

pieces

feta cheese

olive oil

kosher salt & ground pepper

red wine vinegar

or white wine vinegar

microplane or grater

grill or grill pan
Instructions
Prep ingredients – Finely chop ½ teaspoon garlic. Reserve a few whole dill leaves for serving, then finely chop remaining dill and tender stems together. Finely grate 1 teaspoon lemon zest into a medium bowl. Separately, squeeze 2 tablespoons lemon juice into a small bowl. Cut any remaining lemon into wedges.

Marinate pork chops – To bowl with lemon zest, add garlic, 1 tablespoon of the lemon juice, 2 teaspoons of the chopped dill, 2 tablespoons oil, ¾ teaspoon salt, and a few grinds pepper, whisking to combine. Transfer 1 tablespoon of the marinade to a small bowl for step 6. Pound pork to an even ½-inch thickness, if necessary, then add to a medium bowl with remaining marinade; set aside until step 5.

Make dressing – In a medium bowl, whisk remaining lemon juice and chopped dill with 1 teaspoon oregano, 2 tablespoons oil, 1 tablespoon vinegar, a few grinds pepper, and a pinch of salt. Set dressing aside until step 6.

Prep salad – Preheat a grill or grill pan to medium-high. Halve tomato lengthwise, then cut crosswise into ¼-inch thick half-moons. Coarsely chop olives, removing any pits, if necessary. Halve romaine lengthwise, then cut crosswise into 1-inch pieces, discarding stem end.

Grill pork chops – Add pork chops to grill or grill pan, and cook until browned and cooked to medium at an internal temperature of 145°F, 3–4 minutes per side (or longer if desired).

Finish salad & serve – Add romaine, tomatoes, and olives to bowl with dressing and toss to combine. Crumble feta over salad. Serve pork with reserved marinade spooned over top with salad alongside. Garnish with reserved whole dill leaves and serve any lemon wedges on the side for squeezing over.
Notes
ALLERGENS – Milk and Sulphur dioxide and sulphites. May contain traces of other allergens. Packaged in a facility that packages gluten containing products.