Style Smoky Cod & Rice Bake with Tomato, Green Beans & Herb Salsa: This dish is simple but unique. We have a great spice in Smoked paprika to work with. It is made from ground sweet red chilies that have been smoked and dried for several hours. Now you would think its vibrant red hue would mean the heat level would be hot but, the heat level is mild, and almost sweet. We use this spice to add a delicious smokiness to this one-skillet cod dish. Top of rice with green beans and plum tomatoes and your meal is complete.
Common questions about cod fish:
Cod fish is it good for you?
The best things about cod fish is that it is both a flavorful and nutritious fish packed full of lean protein, vitamins, and minerals. It is considered to have a lower omega-3s than other fatty fish. Also this fish contains a much lower level of mercury than most seafood.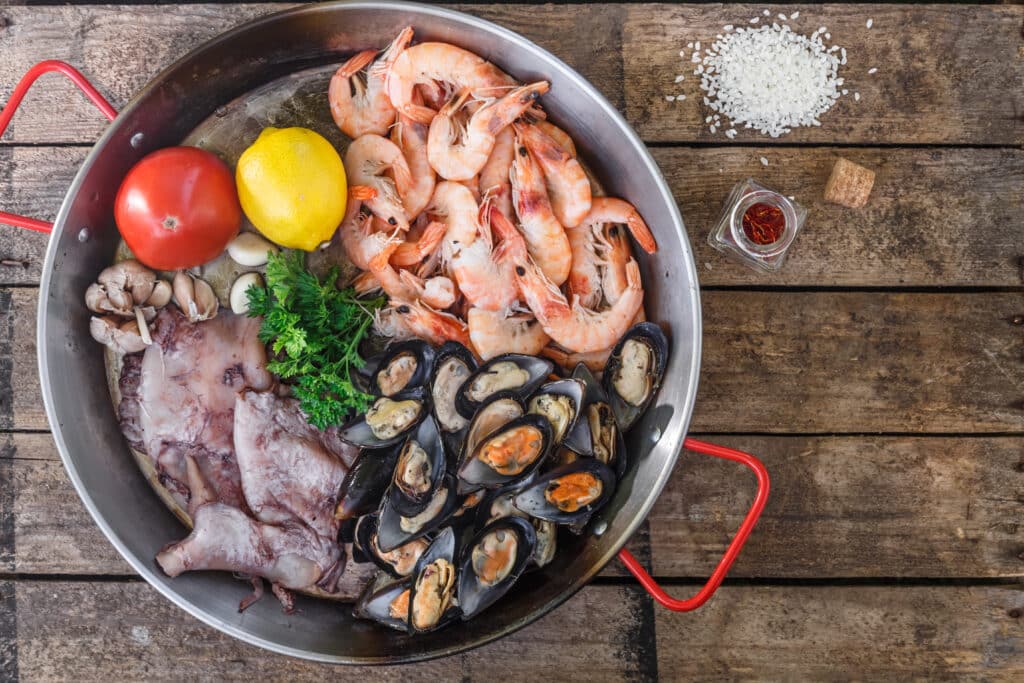 Is Cod good for weight loss?
One of the more flaky white fish that is very easy to prepare. Cod is considered to be a good source of vitamin B-12. It is very high in protein but very low in fat and calories, making it a perfect choice for people who are trying to lose weight.
---
Wine Pairing
Moscato and Spicy Fish are a great pairing. Moscato wine is low in alcohol, sweet and a little bit fizzy. Filled with aromas like vanilla, peach, jasmine and caramel. Some people consider Moscato as a dessert wine, I like to serve it with the main course. Because of  its sweet, mild flavors, pairing Moscato with a Mexican or spicy dish. 
The typical fish for spicy tacos for example is going to be a mild white fish like tilapia, sole or snapper. After eating a spicy taco, a sip of Moscato helps bring in enjoyable flavors like peach and creamy pear. The sharpness of the wine helps offsets the spice a bit if it gets overwhelming.
---
Tips for cooking fish
If you're pan-searing your fish: Make sure to pat it completely dry before adding it to the pan. A general rule for searing any type of fish is to dry it before you cook it. fish is considered especially moist, so this is extra important. Just pat your fillet dry with a paper towel before searing it and you'll be one step closer to having an amazing meal
If you're grilling or broiling thick fish steaks, marinate it for 15 minutes in lemon or lime juice. The acid from the juice "cooks" the fish a bit, cutting down on the time it needs to stay on the heat. This helps prevent you from drying out your fish.
---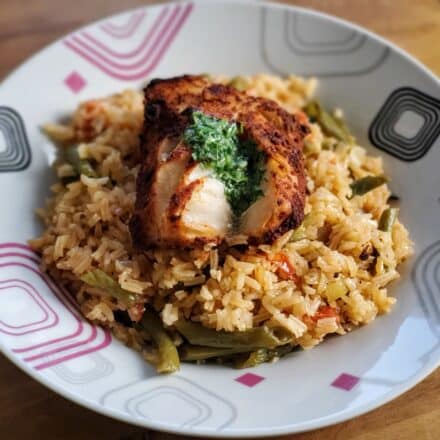 Spanish-Style Smoky Cod & Rice Bake with Tomato, Green Beans & Herb Salsa
Spanish-Style Smoky Cod & Rice Bake with Tomato, Green Beans & Herb Salsa: This dish is simple but unique. We have a great spice in Smoked paprika to work with.
Ingredients
½

oz

fresh cilantro

1

oz

scallions

5

oz

jasmine rice

chorizo chili spice blend

use 1 tsp

10

oz

pkg cod fillets

clam broth concentrate 2

4

oz

green beans

1

plum tomato

1

medium yellow onion

garlic

use 1 large clove

kosher salt & pepper

olive oil

red wine vinegar

or apple cider vinegar
Instructions
Chop veggies: Preheat oven to 425°F with a rack in the center. Peel and finely chop 1 teaspoon garlic. Peel and finely chop all of the onion. Coarsely chop tomato. Trim ends from green beans, then cut into 1-inch pieces.

Prep cod & broth: In a liquid measuring cup, combine clam broth concentrate, 1¼ cups water, and ¾ teaspoon salt. Pat cod dry, then season all over with 1 teaspoon each of the chorizo chili spice blend and salt. Drizzle each filet with oil, then rub seasoning into cod to make a paste.

Sauté aromatics: Heat 2 tablespoons oil in a medium ovenproof skillet over medium-high until shimmering. Add onions and garlic and season with salt. Cover and cook, stirring occasionally, until onions are softened and lightly browned, about 5 minutes.

Toast rice, add veggies: Add 1 tablespoon oil and rice to skillet with onions over medium-high heat. Cook, stirring, until well combined and some of the rice grains turn chalky white, 2–3 minutes. Stir in tomatoes and green beans.

Add cod & bake: Stir in clam broth and bring to a strong boil. Place cod in rice mixture and sprinkle with salt. Remove from heat, then cover tightly with foil or a lid. Bake on center oven rack until liquid is absorbed and rice is tender, 17–20 minutes (watch closely as ovens vary). Remove from oven and let rest 3 minutes.

Make herb salsa & serve: While cod bakes, trim scallions, then thinly slice. Coarsely chop cilantro leaves and stems, then combine with scallions and finely chop together. Transfer herbs to a bowl, then stir in 2 tablespoons oil and 1 teaspoon vinegar. Season to taste with salt and pepper. Serve cod and rice bake drizzled with herb salsa.
Notes
ALLERGENS
Fish and Shellfish. May contain traces of other allergens. Packaged in a facility that packages gluten containing products.
Recipes you may also love