The best thing about Vietnamese cuisine is that it's full of flavor. They have mastered the 5 distinct types of flavors: spicy, savory, sweet, sour, and bitter. This dish combines a perfect harmony of flavors to create a vibrant and uber flavorful dish. But before you get started check out the below tips to help you cook the perfect pork chop.
---
3 Tips for the perfect
pork chop
Tip number 1: There are a couple of ways to season pork chops. You can use a little salt and pepper to season them, or you can take it up a level and brine the chops before cooking. A nice quick brine takes only 30 minutes. The brine will season the meat nicely without it tasting to salty.
Tip number 2: If you have spent good money on a nice piece of meat, make sure you treat it well. Take the pork chops out of the refrigerator for about 15 minutes before you plan to start cooking. Bringing the meat up to room temperature helps it cook more evenly throughout.
Tip number 3: After you finish cooking your pork chop, transfer it to a separate plate. Tent with foil, and let the meat rest for five minutes. If it's going to take you that long to get everything else ready for dinner, don't even sweat it. This is a great way to let the meat finish its cooking process and pack in those amazing flavors.
---
3 mistakes you can make when
cooking

pork:

Do not trimming the fat: A good pork chop will have a nice little layer of fat around the edges leave it. This makes for a tastier piece of meat. Instead of cutting it off, use your tongs and stand the chop on its side in the pan while cooking and get that fat browned and crispy.

Do not not using a meat thermometer: One of the most important things to have when cooking pork is a simple meat thermometer. Nothing ruins a pork chop more than over cooked meat or nothing will ruin your stomach than undercooked meat. Undercooked pork carries the risk of foodborne illnesses, and overcooked pork can be dried-out, tough, and chewy. Cook your chop until it's around 135 degrees, and then transfer it to a cutting board and the residual heat will bring it to the USDA's recommended 145 degrees.

Do not skip the 'Rest' Stage: Its key to let your pork rest once you get it on the cutting board. Even after it has reached the recommended temperature leave it alone. I recommend it to let it sit for 10 minutes. Cutting into the meat too early will allow all the flavorful juices to escape onto the board instead of getting redistributed into the meat. By giving the chops this necessary time allows the fibers of the meat to relax and soak up the yummy juices. Resulting in a tender, juicy pork chop.
---
---
Wine Pairing
Pork goes well very well with Grenache
Pork is a tough wine to pair. Grenache isn't considered a full-bodied wine, while pork has less umami than beef. These two medium flavors go extremely well together. Garnacha is one of the most widely planted red wine grape varieties in the world. It ripens late, so it needs hot, dry conditions such as those found in Spain. Grenache has red fruit characteristics that will boost the flavor of the pork. 
---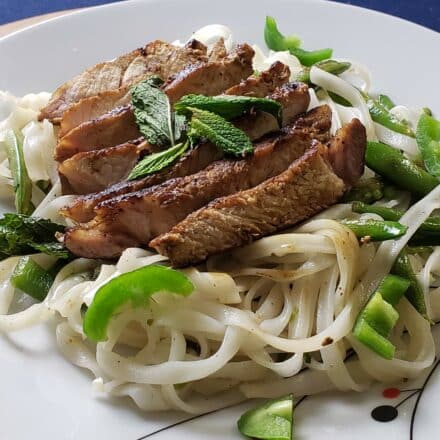 Vietnamese Pork Chop with Rice Noodle Salad
The best thing about Vietnamese cuisine is that it's full of flavor. They have mastered the 5 distinct types of flavors: spicy, savory, sweet, sour, and bitter.
Equipment
large saucepan

meat mallet (or heavy skillet)

colander

medium skillet
Ingredients
garlic

use 2 large cloves

4

oz

pea pods

1

oz

fresh jalapeño

¼

oz

fresh mint

¼

oz

fresh cilantro

1

lime

12

oz

boneless pork chops

½

oz

tamari in fish-shaped

7

oz

stir-fry rice noodles

use half

kosher salt & ground pepper

sugar

neutral oil

such as vegetable
Instructions
Prep ingredients: Bring a large saucepan of salted water to a boil. Peel and finely chop 2 teaspoons of garlic. Trim ends from pea pods, then thinly slice on an angle. Thinly slice jalapeño. Pick mint leaves from stems, discarding stems. Coarsely chop cilantro leaves and stems together. Squeeze 2½ tablespoons lime juice into a small bowl. Cut any remaining lime into wedges.

Marinate pork: Pat pork dry and trim any excess fat to ¼-inch. Pound pork to an even ¼-inch thickness. In a shallow bowl, combine tamari, ½ tablespoon of lime juice, 1 teaspoon of garlic, 1 teaspoon sugar, and ½ teaspoon salt. Add pork, turn to coat, and let sit until step 6.

Make dressing: In a medium bowl, combine remaining lime juice and garlic, 1 tablespoon sugar, and ½ teaspoon salt. Add 1 tablespoon of the sliced jalapeño (or more depending on heat preference).

Boil noodles: Return water to a boil. Add half of the noodles (save rest for own usand cook, stirring, until tender, about 6 minutes. Drain and rinse under cold running water. Shake off excess water, then cut noodles in half directly in the colander. Add noodles to bowl with dressing.

Cook pea pods: Heat 1 tablespoon oil in a medium skillet over high until shimmering. Add pea pods and a pinch of salt and cook until crisp-tender and charred in spots, about 2 minutes. Add pea pods to bowl with noodles and toss to combine.

Cook pork & finish salad: Scrape marinade from pork and pat dry. Heat 1 tablespoon oil in same skillet over medium-high. Add pork and cook, turning once, until charred in spots and cooked through, 5–6 minutes. Transfer to a board to rest. Slice pork, if desired. Add mint and cilantro to salad. Serve pork with salad, remaining jalapeños, and any lime wedges alongside.
Video
Notes
Allergens
Soy (1). May contain traces of other allergens. Packaged in a facility that packages gluten containing products. Nutrition per serving
Calories 690kcal, Fat 34.0g, Proteins 39.0g, Carbs 57.0g
---
You may also like these recipes
Please follow us on facebook