Tasty Mediterranean Shrimp Scampi: One bite of this meal and you'll be transported to a Greek island. This recipe is simple, light, and full of flavor. Za'atar spice blend coats the shrimp before it gets broiled and served atop a bed of fluffy rice pilaf. Add a zingy tomato salsa with lemon zest, juice, and garlic tops it all off. 
What makes Greek food special:
There  are many things that make Greek food unique one of them is its rich taste. Greece historically is a melting pot of cultures. Located between Europe, Asia and Africa, Greek cuisine is full of olive oil, fruits, cheeses, wines, spices and so many other flavors, from around the region.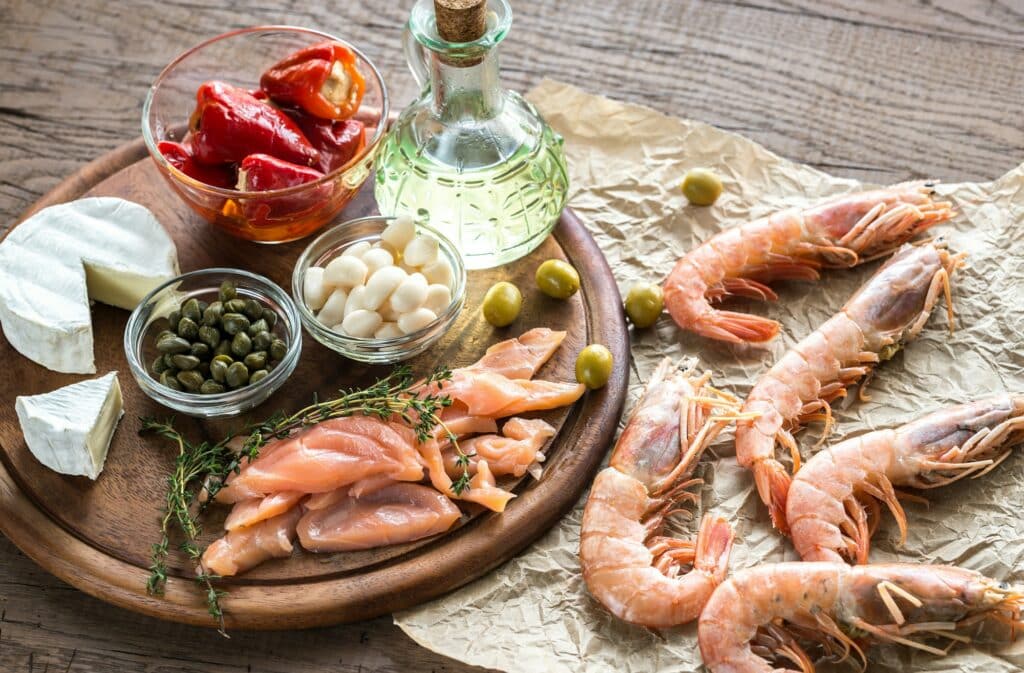 Another great aspect of Greek food is there a variety of choices. There is a great variety in Greek agricultural. The high diversification comes also from the great climate and rich local environment. This allowed for the Greek culture to develop different agricultural processes. Thus encouraging the local, very local, farming and a high diversification of ingredients and recipes.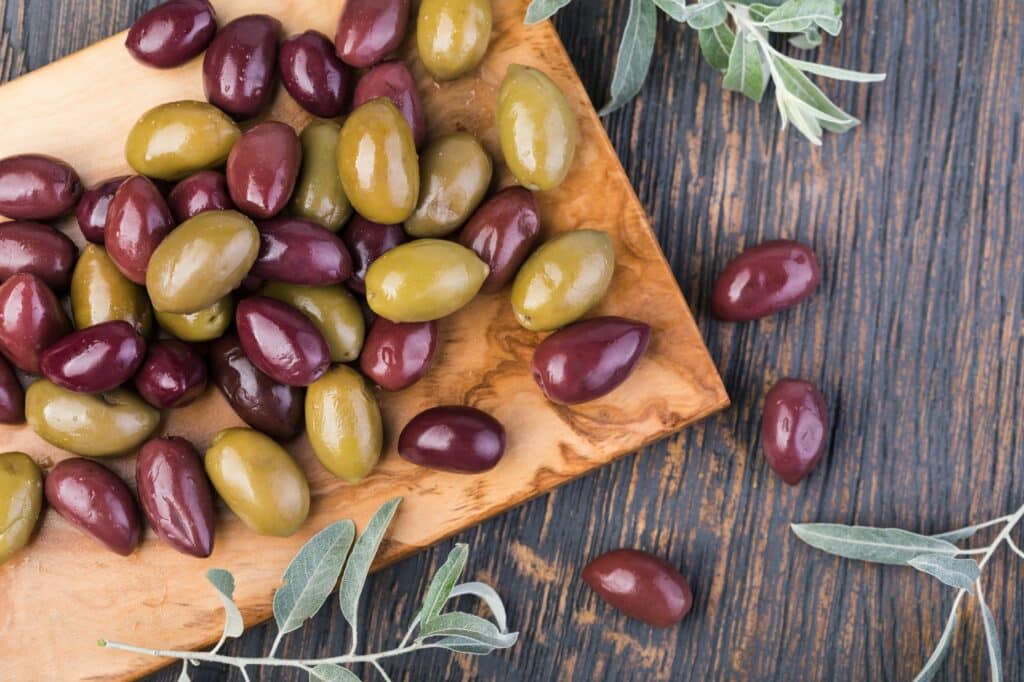 Throughout the Greek land there are many  Unique indigenous herbs, fruits and vine varieties. Some of them are unique to that specific region.
Finally one of the greatest benefits of eating Greek food is in general it is Healthy. Many scientists have argued that the well-known Mediterranean diet is one of the healthiest diets in the world. The average life expectancy in Ikaria island is over 80 while Cretans demonstrate extremely low percentages in heart disease.
---
Wine pairing for Tasty Mediterranean Shrimp Scampi
Pinot Grigio
Body and Tannins: light-bodied
Pinot gris or Grauburgunder is a white wine grape variety of the species Vitis vinifera. Thought to be a mutant clone of the pinot noir variety, it normally has a grayish-blue fruit, accounting for its name but the grapes can have a brownish pink to black and even white appearance.
---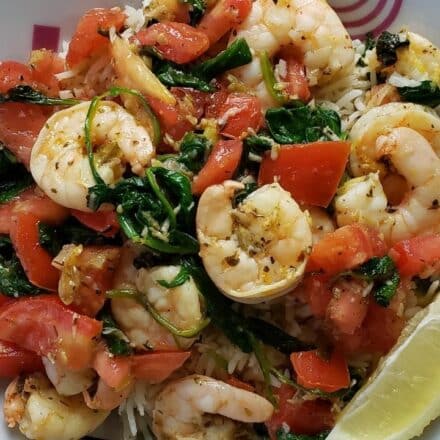 Mediterranean Shrimp Scampi with Tomato Salsa & Rice Pilaf
One bite of this meal and you'll be transported to a Greek island. This recipe is simple, light, and full of flavor.
Equipment
small saucepan

zester or microplane

rimmed baking sheet
Ingredients
1

oz

scallions

5

oz

basmati rice

garlic

use 2 large cloves

1

lemon

4

oz

plum tomato

10

oz

wild US Gulf shrimp

za'atar spice blend

use 2 tsp

3

oz

baby spinach

kosher salt & ground pepper

olive oil
Instructions
Toast rice: Trim ends from scallions, then thinly slice on an angle. Heat 1 tablespoon oil in a small saucepan over medium-high. Add half of the scallions and cook until softened, about 1 minute. Add rice and cook until fragrant and toasted, 2–3 minutes.

Cook rice pilaf: Add 1¼ cups water and ½ teaspoon salt to saucepan, stir, and bring to a boil. Cover, reduce heat to simmer, and cook until water is absorbed and rice is tender, about 17 minutes. Cover to keep warm until ready to serve.

Prep ingredients: While rice pilaf cooks, peel and finely grate 2 large garlic cloves. Grate ½ teaspoon lemon zest, then squeeze 1 tablespoon lemon juice into a separate small bowl. Cut any remaining lemon into wedges. Cut tomato into ¼-inch pieces.

Make tomato salsa: In a medium bowl, combine tomatoes, lemon zest, ¼ teaspoon of grated garlic, and 1½ tablespoons oil. Season to taste with salt and pepper.

Season & broil shrimp: Preheat broiler with top rack 6 inches from heat source. In a large bowl, toss shrimp with lemon juice, remaining garlic, 2 teaspoons za'atar, 1½ tablespoons oil, ¼ teaspoon salt, and a few grinds pepper. Transfer to a rimmed baking sheet. Broil shrimp on top oven rack until almost cooked through, 1–2 minutes (watch closely as broilers vary).

Broil shrimp & serve: Sprinkle spinach over shrimp on baking sheet. Broil, about 30 seconds. Remove from oven, and toss to wilt spinach. Fluff rice pilaf with a fork. Serve rice pilaf topped with shrimp, tomato salsa, remaining scallions, and any lemon wedges on the side for squeezing. Drizzle with olive oil and garnish with a few grinds pepper.
Notes
NUTRITION PER SERVING
Calories 620kcal, Fat 29.0g, Proteins 27.0g, Carbs 63.0g ALLERGENS
Sesame and Shellfish. May contain traces of other allergens. Packaged in a facility that packages gluten containing products.
---
You may also like these recipes
Please follow us on Instagram