Today we are going to make shrimp & rice congee with a ginger scallion chili oil. Sounds fancy and you are right, but it is also easy to make. Congee is a rice porridge. Simmered in an umami-rich concoction that is a wonderful right flavor. We add seared shrimp and plenty of fresh herbs and finally a drizzle of chili oil to finish it off.
For people who are not familiar with congee one might ask, what kind of rice is used for congee? Standard congee is made with Japonica rice. It has a short that is round and translucent. The congee is cooked at a ratio of 1 cup of rice to 12 cups water for a mouth feel that sits between Japonica rice and glutinous rice.
The best shrimp to use for this dishes would be a medium-sized shrimp. I would buy about a pound that should give you about 20 to 30 pieces. Shrimp sold in the shell will have the best flavor, but you can also buy them with heads removed, shelled and deveined, or even fully cooked and ready to eat. I recommend getting shrimp that has already been prepared for you raw is just too much work.
That last piece of this dish is the chili oil? Not only is it tasty it also has other health benefits. Chili pepper includes improves "digestive health and metabolism, alleviates migraines, may reduce risks of cancer, fights fungal infections, colds, and the flu, provides joint pain relief, fights inflammation, supports cardiovascular health, may improve cognitive functions, may improve longevity."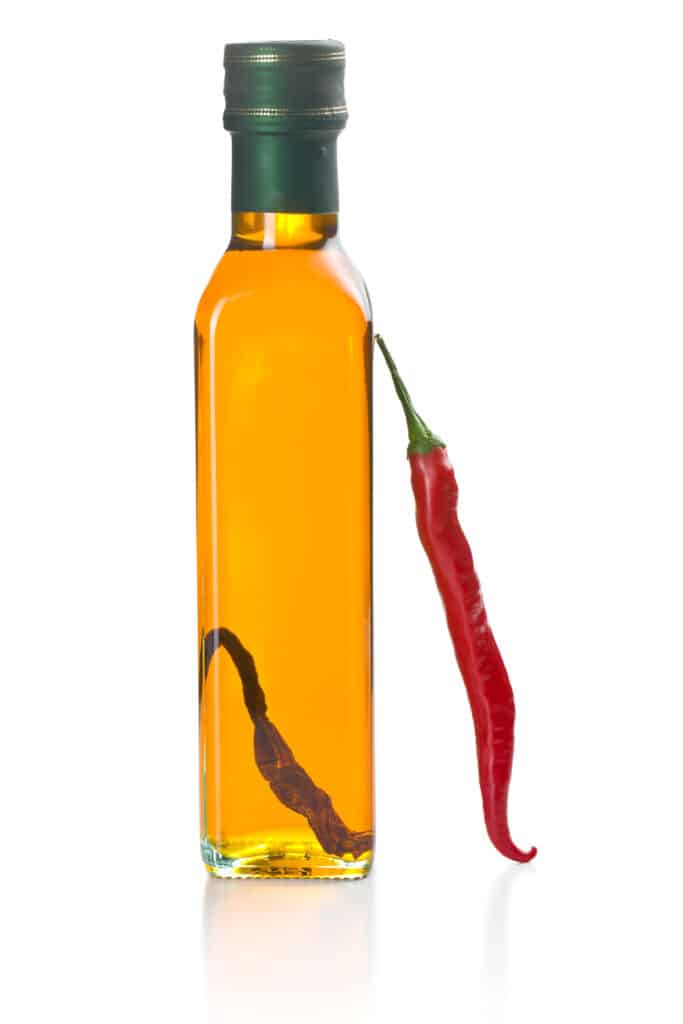 ---
WINE PAIRING
RIESLING
Body and Tannins: light-bodied
Riesling is a white grape variety which originated in the Rhine region. Riesling is an aromatic grape variety displaying flowery, almost perfumed, aromas as well as high acidity. It is used to make dry, semi-sweet, sweet, and sparkling white wines. Pairs Well With These Foods: Thai, Vietnamese, Southwestern food, barbecue sauce
---
TIPS FOR COOKING THIS MEAL Shrimp & Rice Congee:
HOW TO DEFROST SHRIMP
There are two ways to thaw shrimp safely: 1) Slowly in the fridge for about 24 hours per pound. 2) Quickly in a colander in the sink under cold running water. Never at room temperature. Never in warm water.RELATED RECIPE: Red Pepper and Shrimp Sauté with Couscous and Herb Vinaigrette
HOW LONG TO MARINATE SHRIMP
Depends on the marinade. If it's acidic (lemon, lime, orange, etc.), 30 minutes or less should be fine. Any more than that and the acid will start to break down the delicate shrimp meat and make it mushy. If your marinade is non-acidic (olive oil, garlic, herbs) you could marinate for an hour or more. In either case, marinate in the fridge until you're ready to get cooking.
HOW LONG DO I STEAM STICKY RICE?
Cover rice with 2 to 3 inches cold water in a large bowl and soak at room temperature at least 3 hours. Drain rice and put in a steamer basket (see cooks' note, below) lined with cheesecloth. Steam rice, covered with lid, over boiling water until shiny and tender, about 20 minutes.
---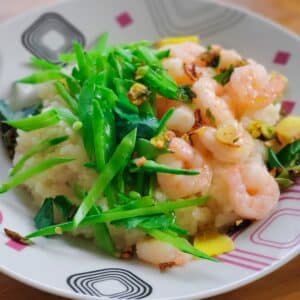 Shrimp & Rice Congee with Ginger-Scallion Chili Oil
Congee is a rice porridge that we love for its warming qualities. Rice is simmered in an umami-rich concoction and gets topped with seared shrimp and plenty of fresh herbs. A drizzle of chili oil, to which we've added thinly sliced ginger, adds a little kick to this comforting rice bowl.
Equipment
medium pot

fine-mesh sieve

small skillet
Ingredients
2

½ oz fish sauce (use 1Tbsp)

crushed red pepper (use ⅛-

¼

tsp)

2

oz

snow peas

1

oz

scallions

10

oz

sushi rice

use 1 cup

10

oz

pkg wild US Gulf

shrimp

1

pkt clam broth concentrate

½

oz

fresh cilantro

1

oz

fresh ginger

neutral oil

kosher salt
Instructions
Prepare broth: Peel and thinly slice ginger. Pick cilantro leaves from stems. In a medium saucepan, combine cilantro stems, 6 cups water, ¾ of the sliced ginger, and clam broth concentrate. Bring to a boil over high heat, then reduce heat to medium and simmer, about 5 minutes.

Poach shrimp: Season shrimp with salt and add to broth. Poach shrimp until pink and opaque, about 2 minutes. Drain shrimp, cilantro stems, and ginger through a fine-mesh sieve over a large bowl and return broth to pot. Pick shrimp out, discarding cilantro stems and ginger. Transfer shrimp to a bowl. Cover to keep warm.

Cook rice: Return broth to a boil. Stir in 1 cup of the rice (save rest for own use). Reduce heat to a simmer and cook, stirring occasionally, until rice is breaking apart and broth is thick, 20–25 minutes.

Prep aromatics & peas: Meanwhile, stack remaining slices of ginger and thinly slice. Trim scallions and snow peas, then thinly slice on an angle.

Cook chili oil: Heat 3 tablespoons oil and ⅛-¼ teaspoon of the crushed red pepper (depending on heat preference) in a small skillet over medium until fragrant, about 1 minute. Stir in sliced ginger and scallions and cook until softened, about 1 minute. Season with a pinch of salt.

Finish rice & serve: Remove rice from heat and stir in 1 tablespoon of the fish sauce (taste rice and add more fish sauce, if desired). Spoon rice into bowls and top with shrimp, snow peas, and cilantro leaves. Garnish with chili oil. Enjoy!
Notes
Allergens
Fish (1), Shellfish (2). May contain
traces of other allergens. Packaged in
a facility that packages gluten
containing products.
Recipes you may also like