Fajitas can be considered a pretty perfect summer meal. The one main drawback is when you have to build one perfectly, wrapped it up, and take a bite, only to have it all fall out of the back of the tortilla. This recipe solves that problem! Enter the Chicken Fajita Bowl. Layered brown rice, sautéed peppers, and taco-spice rubbed chicken breast, and topped it with fresh cilantro and a drizzle of sour cream.
5 GREAT SIDE DISHES FOR YOU FAJITA BOWL:
EASY MEXICAN RICE
This will turn you off to plain rice for good. "This Mexican rice is cooked with onion powder, garlic powder, and tomato sauce for an easy side dish. Add green bell pepper, red bell pepper, or fresh tomato to the rice before simmering for extra flavor and color, according to your family's taste.
Get the recipe from allrecipes.
BLACK BEAN SOUP
A warm and spicy black bean soup. It takes advantage of canned black beans and comes together quickly. Yet the soup tastes remarkably fresh thanks to the carrots, celery and garlic.
Get the recipe from cookieandkate.
MEXICAN CORN SALAD
Mexican street-style corn meets corn salad in the best way. This simple salad hits all the right notes: creamy, spicy, salty and citrusy, it's the perfect light side for all that heavy summer potluck food.
Get the recipe from Delish.
SHRIMPO DE GALLO
This healthy dip is definitely bikini friendly. You'll love this light, fresh dip! Serve it with tortilla chips (blue ones would be lovely) or use it as a relish on grilled shrimp.
Get the recipe from The Pioneer Woman.
AVOCADO TOMATO SALAD
Yes, you'll want this and guac on your table. This flavorful tomato and avocado salad is simple, colorful and healthy too!
Get the recipe from Gimme Delicious.
---
Tips for cooking chicken
Marinate or brine your chicken: If you are looking for really juicy chicken, marinate or brine the chicken before cooking. Marinades and brine solutions are really easy to make at home.
Internal temperature is the best indicator for doneness: Typically you are told that chicken is safe to eat when its juices run clear, and the inside is no longer pink, and it registers at least 165°F in the thickest part of the meat. Checking the temperature is really the only solid method knowing when your chicken is fully cooked. If you keep cooking it past 165°F, the meat will most definitely dry out, so always use that as your best indicator.
Chicken breasts should not be thicker than 1-inch, max. If your chicken breasts are thick, use a meat mallet or rolling pin to pound the chicken to a smaller and even thickness BEFORE cooking.
---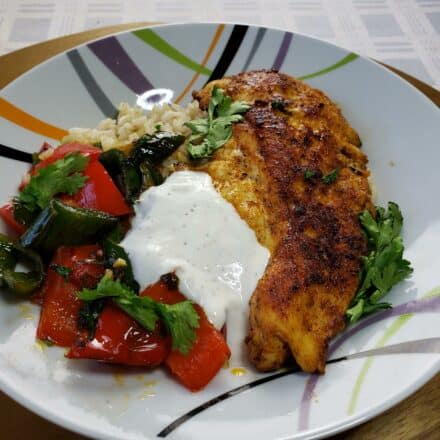 Chicken Fajita Bowl with Peppers & Sour Cream
Fajitas can be considered a pretty perfect summer meal. The one main drawback is when you have to build one perfectly, wrapped it up, and take a bite, only to have it all fall out of the back of the tortilla.
Ingredients
5

oz

quick-cooking brown rice

2

oz

sour cream

2

large garlic cloves

12

oz

boneless skinless chicken breasts

1⁄4

oz

taco seasoning

1

poblano pepper

1

red bell pepper

1

oz

scallions

1⁄4

oz

fresh cilantro

kosher salt & ground pepper

olive oil
Instructions
Cook rice: Bring a large pot of salted water to a boil. Add brown rice and cook, uncovered, until rice is tender, about 20 minutes. Drain using a fine-mesh sieve. Return rice to pot. Cover to keep warm. Meanwhile, in a small bowl, whisk 1 teaspoon of water at a time into sour cream, to make a spoonable sauce; season to taste with salt and pepper. Reserve for step 6.

Marinate chicken: Peel and finely chop 2 teaspoons garlic. Pat chicken dry, then pound to an even thickness if necessary. In a large bowl, combine all of the taco seasoning, 1 teaspoon of garlic, 1⁄4 teaspoon pepper, and 1 tablespoon oil. Add chicken to marinade and turn to coat. Let stand at room temperature until step 5.

Prep ingredients: Halve poblano and bell peppers, remove stems, cores, and seeds, then cut into 1-inch pieces. Trim ends from scallions, then thinly slice about 1⁄2 cup. Pick cilantro leaves from stems; finely chop stems and coarsely chop half of the leaves, leaving rest whole. Stir cilantro stems and half of the scallions into cooked rice.

Cook peppers: Heat 1 tablespoon oil in a medium skillet over medium-high. Add peppers, remaining garlic and scallions, and a pinch each salt and pepper. Cook, stirring occasionally, until peppers are softened and charred in spots, about 8 minutes (reduce heat if browning too quickly). Transfer to a heatproof bowl. Return skillet to medium-high heat.

Cook chicken: Add chicken and 1 tablespoon oil to same skillet; cook until browned on one side, 2–3 minutes. Flip chicken. Add peppers and 1⁄3 cup water to skillet. Reduce heat to medium, cover, and cook until peppers are very tender and chicken is cooked through, about 3 minutes.

Finish & serve: Add chopped cilantro leaves to skillet. Season to taste with salt and pepper. Serve rice topped with chicken, peppers, and any pan juices. Spoon sour cream over top, then garnish with remaining cilantro leaves.
Video
Notes
ALLERGENS
Milk. May contain traces of other allergens. Packaged in a facility that packages gluten containing products.
---
You might also like these recipes