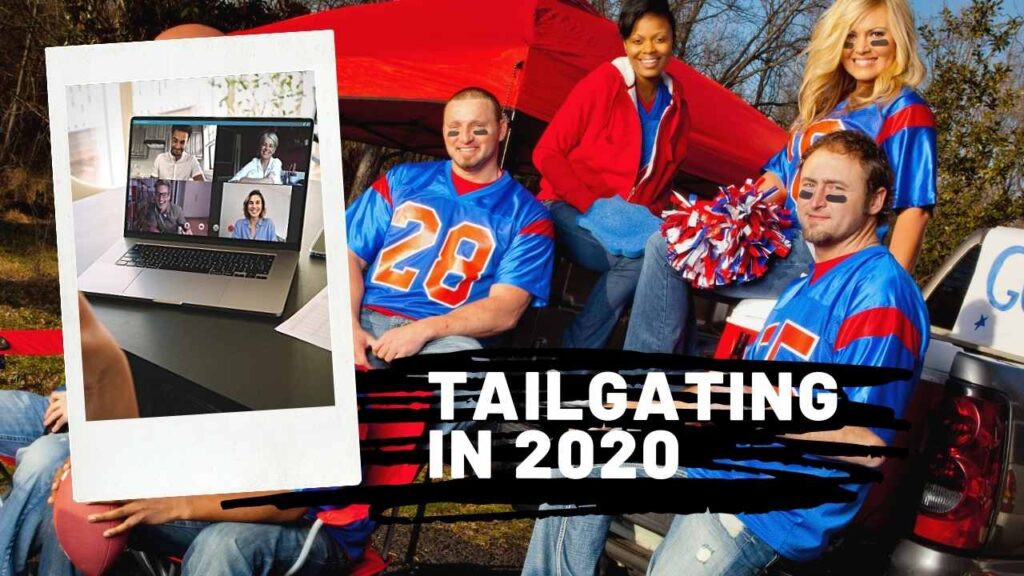 Covid-19 has turned the sporting world upside down, inside out and back again. With social distancing, most fans are not able to attend games, and in some cases, athletes can't play. And if they do play, it's in arenas and stadiums with little or no fan attendance. For dedicated sports fans, this is really a time to take these "lemon" circumstances and make delicious lemonade. And how do you do that?! Be creative and plan safe tailgating activities that correspond with Covid-19 social distancing and mask wearing restrictions.
What can a pre-game tailgating event look like?
A tailgate party is a social event held on and around the open tailgate of a vehicle. So in the time of covid how to we Tailgate when you are not allowed to go to the games?
How about a Zoom Tailgating Pre-Game Grub Fest?
Invite your neighborhood family and friends to a zoom tailgate. You have spent all week zooming for work now its time for a little fun and get your best buds together and have a party. Whip up your specialty the day or two before game time. Then either deliver it to your neighborhood guests and/or have them pick it up the day of or day before. Then Zoom into pre-game time, eat, cheer, drink, talk smack, and be merry for your favorite team. Also you can try a couple of these appetizers that your friends can whip up and you guys can eat together.
5 recipes to make for a Zoom tailgate
Have a Zoom tailgate pre-game sports trivia contest. With the looser picking up the tab for the next pre-game virtual grub fest.
Or
Have a Zoom tailgate pre-game Biggest fan contest where everyone puts on there craziest sports gear and decorates the living room.
Or
Create a Zoom pre-game tailgate Octoberfest, each invitee hosting a specific German beer along with German smorgasbord of their choosing.
Having a Zoom pre-game tailgate activity is a great opportunity just to chat with family and friends you haven't seen in a while and to catch up on each other's new normal under the current Covid-19 umbrella.
As you can see, under a Zoom watch, the pre-game ideas are endless. Whether you plan a Zoom meetup or an actual local in person pre-game meetup, pandemic safety considerations and responsibility celebrating are the number one priority for all involved.
What has been your best tailgating sports experience in the last 5 years?
Please follow on Instagram and Pinterest