There is nothing better than a good french fry, this is a nice twist to the original potato wedges. A little salt and vinegar and you have a tangy side for those summer BBQ's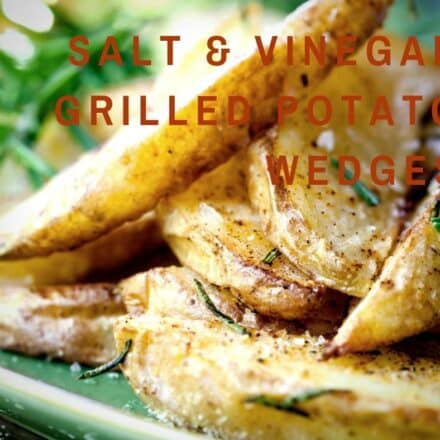 Salt & Vinegar Grilled potato wedges
There is nothing better than a good frech fry, this is a nice twist to the original potato wedges. A little salt and vinegar and you have a tangy side for those summer BBQ's
Ingredients
3

– 4 russet potatoes

3

cups

distilled white vinegar

1

teaspoon

salt

1

tablespoon

+ 1 teaspoon olive oil

coarse sea salt

chopped chives for garnish

if desired
Instructions
Cup potatoes into large wedges. Place potato wedges into a medium sized pot. Pour in vinegar and then fill the rest of the way with water, about 7 cups, make sure all potato wedges are covered with liquid.

Bring water to a boil, reduce to a simmer and simmer for 35 – 40 minutes until potatoes are fork tender, but not falling apart.

Drain potatoes and place them into a large bowl. Let cool for a few minutes. Drizzle with olive oil and season with salt. Toss to coat potato wedges.

Heat the grill to medium heat and place potato wedges on the grill. Grill for about 10 – 15 minutes, flipping occasionally.

Sprinkle with coarse sea salt and garnish with chopped chives, if desired.
Please follow on Instagram and Pinterest